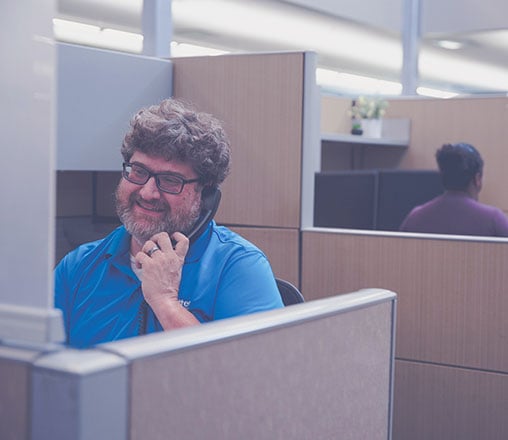 Cloud PBX:
A Better Phone System For Every Business
Considering a cloud PBX for a small business? For companies looking to maximize ROI and do a lot more with a limited budget, a virtual PBX system from Ritter Communications is a very smart call.
It's the more scalable, more secure, more profitable phone solution that can put your small business ahead. So hang up on dropped calls, confusing tech and equipment breakdowns that are keeping your teams siloed and your customers frustrated. Choose a small business cloud PBX from Ritter Communications, and experience the surprisingly affordable future of small business communication.
You may have heard the acronym, but what does PBX stand for? PBX is short for "Private Branch Exchange." In the most basic sense, a PBX is a private telephone network created specifically for use by an organization or business. Most commonly, PBX systems link everyone in an office or even multiple branch offices through interconnected, multifunction phone terminals at each desk.
In addition to standard features like calling and access to voicemail, PBX systems can automatically perform complex, business-friendly communication functions like allowing calls to be rerouted to a specific desk or outside line, call forwarding, queuing callers by the order they phoned, dialing by extension number, multi-line conference calling, call recording and more.
A cloud PBX — also known as a "hosted PBX" or "virtual PBX" — is an advanced PBX phone system that runs on software that's hosted completely online. Like other types of Private Branch Exchanges, a virtual PBX system often supports interconnected phone terminals that provide features like call forwarding, multi-line conference calling, voicemail access and extension dialing. However, the programs required to operate a cloud PBX system are hosted and run entirely from the cloud.
Another important characteristic of a virtual PBX system is that the software underpinning the system is usually remotely serviced, upgraded and maintained by personnel trained and employed by cloud PBX providers like Ritter Communications.
Benefits of Cloud PBX
In business, the rules are always changing. To keep up, you need systems that work right out of the box and keep working to reduce overhead and expand profitability.
Choosing a virtual PBX system from Ritter Communications opens the door to a host of benefits that can help keep your company competitive and eliminate many of the communications challenges that are tangling the path between your business, your customers and making the sale. Benefits of choosing Cloud PBX for small business from Ritter Communications include:
Lower Cost
The front-loaded cost of a traditional phone system can take a serious bite out of your small business when you can least afford it. Wiring, running electrical, purchasing a server and everything else you need to get an on-premises PBX server going can be a chunk of change. The reward? A hot, temperamental piece of hardware your IT staff has to maintain, with a big portion of your business relying on keeping it happy. With Cloud PBX from Ritter Communications, the only hardware required to get started on-site is a phone receiver, which can be either a VoIP-ready desk phone or any mobile device. With Ritter Communications, upgrades and updates are always included, with no hidden costs. All you have to do is connect to the internet, and your business is ready to grow.
More Scalable
A successful business means growth. To get there, you need a communications system that can scale up and evolve with your customer base. Upgrading an on-premises business phone system used to be a major pain, requiring visits by techs, wiring, server upgrades, intermittent downtime and sometimes even breaking out the "pardon our dust" signs. But with a virtual PBX system from Ritter Communications, scaling up doesn't mean moving mountains anymore. Thanks to remote upgrades and the ability to self-manage basic options, changes to increase your call capacity or the range of features you can offer customers can happen in minutes not days. That lets you fine tune your strategies and keep your focus on your business, not your phone system.
More Customizable
Take a one-size-fits-all approach to business, and there's a good chance you'll soon find yourself in the market for a "going out of business" sign. Each small business is different, with different communications needs. Is your small business ready for a phone solution with the features, customization and technology to truly fit your needs and find your customer base? A cloud PBX from Ritter Communications is all about flexibility, giving you the ability to self-manage features and fine-tune a phone system that's right for both where your business is now and where it will be next year. From next-gen conference calling to find me/follow me functions that allow any number to receive incoming calls at multiple locations, a virtual PBX system from Ritter Communications has you covered.
Advanced Features of a Virtual PBX System
Ready to help your small business take a big leap forward? A virtual PBX system from Ritter Communications can deliver advanced functionality that sets your business apart and makes sales.
Available advanced features of a virtual PBX system from Ritter Communications include:
Business Group Setup
Local Numbers
Unlimited Local and Inbound Calling
Caller ID
Caller ID Blocking
Extension Dialing
Call Park
Call Park Pickup
Call Transfer
Call Waiting
Standard Voicemail
Call Forwarding
Do Not Disturb
Call Hold
Call Waiting ID
Outbound Group Caller ID Options
Message Waiting Indicator
CommPortal Management Platform
Frequently Asked Questions
"The cloud" refers to cloud computing. Cloud computing has come to be a kind of shorthand for massive, connected groups of servers called server farms that are located around the world. The cloud offers low-cost digital storage for companies and organizations that don't have their own servers on-site, or that prefer to archive or host their data off-site for a variety of reasons.
In addition to providing secure storage for archival and sensitive data, the cloud can also be used to remotely host and run software and applications. That includes the software that Ritter Communications and other cloud PBX providers use to run virtual PBX systems.
What's the difference between a cloud PBX and a digital PBX?
Cloud PBX systems are quickly making older PBX technologies obsolete due to much lower equipment cost, greater reliability and simpler operation. However, some businesses today still rely on what is called a digital PBX. Like a cloud PBX, a digital PBX is a phone system created specifically for a business or organization. Unlike a cloud PBX, however, the programs required to operate a digital PBX are usually hosted on a company's own server. That's why digital PBX systems are sometimes called "on-premises PBX."
Owning and running an on-premises PBX can be a major investment, often requiring a business to purchase, provide power to and run wiring for a dedicated server and phone system. An on-premises digital PBX also requires regular, skilled software and hardware maintenance and an out-of-the-way space that usually requires upgraded cooling. A company's own IT personnel are usually responsible for maintaining the server that hosts an on-premises PBX and troubleshooting the software that runs it.
For small businesses, that can increase costs, stretch IT resources thin and even lead to unexpected system crashes, especially if an on-premises PBX develops an issue during a time of high call volume.