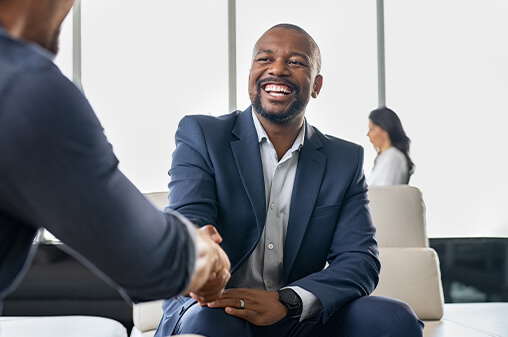 Partner
Program Details
By partnering with Ritter Communications, each time you provide us a new lead who buys service from us, your business will receive a commission check equal to one month's cost of the services of that lead. You provide the referral, we'll make the sell. It's just that simple!
Fiber-Optic Internet, Voice Solutions and Advanced Business Solutions
You'll find it easy to please your customers by referring them to a fiber-optic network up to 100 Gbps with the most advanced technology and a wide range of innovative, cost-effective voice and internet solutions for businesses large and small. Some of the areas we excel at meeting customer needs include:
High-Speed Internet
Voice
Cloud Solutions
Networking
TV Service
Advanced, Dependable, Affordable
Our goal is to provide our business customers, both big and small, with the most advanced technology on the market at the most-affordable price. We innovate so your business can stay ahead.
We Bring Advanced Technology to the Mid-South! Serving...
4
States

135
Communities

49000
Customers

4800
Miles of Fiber

10
Direct Connections to Regional Hubs

18
Direct Connections to National Hubs
* Ritter Communications serves 4 states in network and 11 states out of network including our partner's networks.
Submit a Referral
Complete the form below to get started growing your business.
*The Ritter Referral Partner program is a referral program for local partners to provide leads to the Ritter sales team for new network customer opportunities in exchange for a one-time commission payout per location. Referred customer must not have had active service with Ritter Communications in the past six months. Eligible services under this program are TV, internet, phone and cloud services. Ritter Referral is a program facilitated by the Ritter Referral Representative. Generated leads are provided to the Direct Sales Team via forms submitted on the Ritter Communications website. Ritter referral partners can be anyone who refers a new business to Ritter excluding existing customers. Referred customer must not have had active service with Ritter Communications in the past six months. Ritter referral partners are issued a one-time payment of 1x MRR after services are installed and billed. No agreement or revenue commitment required. net new customer accounts only (no existing customer sales) $100 minimum MRR. Ritter Referral Partner (1xMRR) costs must be included in customer financials. 1xMRR not to exceed $5,000 without prior VP approval Monthly Billed Revenue includes all monthly recurring charges [excluding long distance usage, taxes, installation fees, termination fees, federal and state imposed fees] incurred by Leads based on the usage of Services, less all discounts and promotional or other credits. Commissions are paid within 60 days of the end of the first billing month of the full MRR. Commissions may be charged back if payment is not collected from the referred customer. Commissions will not be paid if a W9 and Vendor Intake form are not submitted and will not be paid after a period of 60 days post install. No partnership agreement required. Ritter Referral payouts will not be paid if the W9 and Vendor Intake form is not submitted within 60 days after the customer's install date. Agents cannot be a Ritter employee; nor can they be a spouse, significant other, blood or adopted relative of a Ritter employee. Customers cannot receive payout for their own account(s). City government or chamber of commerce employees are not eligible. The terms of this program may be changed at any time without notice. Other restrictions may apply.