Here's How to Get Started
Know a business who could use our communications services? We're ready to help and to reward you for each referral. Connect us with your colleague and you each save $100*!
Complete the online form.
One of our sales representatives will reach out to your friend.
If we're a good fit for their technology needs and they become a customer, you get a $100 credit for using our referral program.
Repeat & save more! There's no limit to the number of businesses you can refer
Refer a Business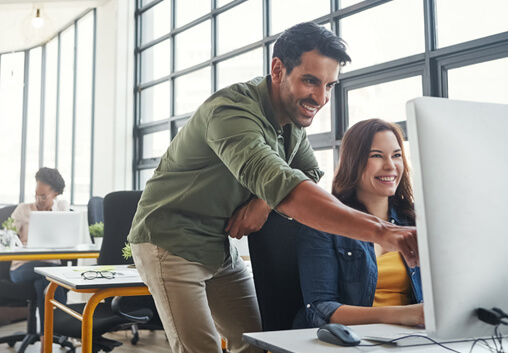 Your Technology Partner
Our goal as a community partner is to provide our business customers, both big and small, with the most advanced technology on the market and our referral program is another way we are committed to being Right by You®.
Terms & Conditions
*For business customers only. Both the referral and referrer may receive up to $100 in bill credits for the following services: TV, internet, phone and cloud services. Credit only applicable when referrer and referral have services within Ritter Communications service areas. Referred customer must not have had active service with Ritter Communications in the past six months. Both the referrer and referral must be in good standing from the time of referral through 60 days after installation. New or qualified participants must provide notice of using the refer a friend discount prior to installation and activation. Referral must provide a valid account number of referred customer prior to installation to receive the credit. Customers can expect to see the discount on the monthly bill within the first three bills from the installation. Customer cannot choose what month the credit will appear. Refer a friend credits are nonrefundable, not redeemable for cash and nontransferable. Apartment managers, building managers, leasing representatives and other property management agents, city government or chamber of commerce employees at Ritter Communications served properties are ineligible with respect to prospective customers from their respective properties (or similar connections). Ritter Communications employees are not eligible. Customers cannot refer themselves. The terms of this program may be changed at any time without notice. Other restrictions may apply.