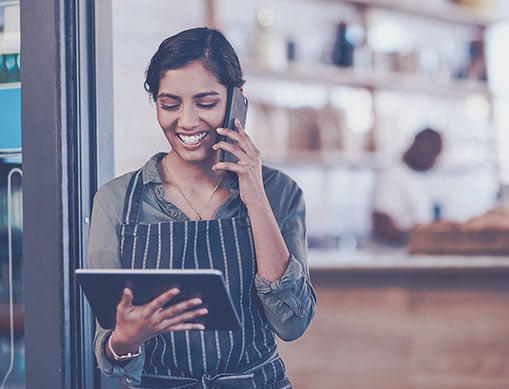 Why Fiber Internet for Business?
Commerce moves faster than ever, and you need business internet solutions that can keep up. Unlike residential internet customers, businesses need the reliability of internet speeds that don't drop off or throttle during hours of peak demand. Ritter Communications delivers world-class network reliability for businesses of all sizes, including dedicated fiber connections that won't flake out and leave your business hanging when deadlines are tight. From e-commerce to secure networking, when you're ready to take your business to the next level, Ritter Communications can show you how.
Fiber vs Cable Internet
Considering Fiber vs. Cable Internet for your business? Long story short: fiber internet from Ritter Communications is faster, more reliable and helps your business grow.
Faster
Fiber internet runs on light. By using lasers to push information through our 100% fiber-optic network, Ritter Communications fiber internet for business can move data over 2,000 times faster than transmission through copper, for speeds up to 100 Gbps. That's the speed you need to up productivity and get your business growing in the right direction.
Scalable
Have a growing business? Then you need networking solutions and internet service that can keep pace with growth without costly equipment upgrades in the future. With Ritter Communications fiber internet for business, once fiber-optic cable is connected to your location, increasing bandwidth to scale with your networking needs is usually as easy as making a few keystrokes.
Reliable
Is there anything worse than your internet service deciding to take a nap when the pressure is on for your business? From teleconferencing to on-deadline uploads to the cloud, your next sale or contract might depend on the reliability of your internet. With consistent average uptimes over 99.99%, fiber internet from Ritter Communications delivers the reliability your business needs when you need it most.
Cost Effective
Fiber internet used to be an expensive choice, but advancements in materials and technology have drastically lowered prices in recent years. Pair that with lower lifetime maintenance and upgrade costs along with the productivity and customer-satisfaction boost a business can see after moving to a faster and more reliable connection, and business fiber internet from Ritter Communications turns out to be the bargain that can really get your business booming.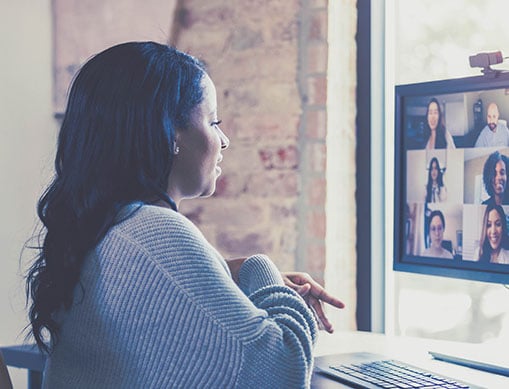 Your Business WiFi Provider
When your business needs to run bandwidth-hungry operations, fiber internet for business from Ritter Communications can get things moving with top-ranked speed. But we're just as good at helping deliver fast, reliable WiFi for businesses, their customers and staff. Tired of spotty internet or unreliable connections crashing teleconferencing with clients when you need to impress? A fiber-backed WiFi connection from Ritter Communications can make embarrassing lag, screen freezes and dropped connections during video calls a thing of the past.
CASE STUDY
Learn how fiber internet for business from Ritter Communications helped a multi-national timber equipment manufacturer cut their network issues down to size.
The Client
Based in Hot Springs, AR, Timber Automation helps keep North America building and America's manufacturing economy humming by producing and installing custom-engineered equipment, controls and optimization systems for timber mills throughout the U.S. and Canada.
The Problem
With 30 field agents and over 200 employees based in two countries, Timber Automation had a digital dilemma that was whittling away at productivity. Running network-intensive operations like Voice Over IP (VoIP) and a CRM system on a 100 Mbps connection, the company had stretched their existing internet capability to the limit. Stressing the system even more was the fact that the company's engineers regularly uploaded and downloaded large AutoCAD files from the field.
"If someone knew they needed a file for a job tomorrow," said Timber Automation Senior IP Administrator Matthew Stevens, "they started downloading it the night before to have it ready. We were using a lot of data, and we needed another solution."
Timber Automation was stuck in a networking logjam that was holding them back. But even after a five-figure upgrade by a local telecom, the company still experienced glacially-slow network speeds, with the added frustration of service outages whenever it rained.
The Solution
Timber Automation reached out to Ritter Communications, and we went to work on a custom, 100 percent fiber internet solution perfectly suited to the company's multi-national footprint and growing bandwidth needs.
Download the case sudy to see how Ritter Communications helped Timber Automation all but eliminate their networking woes while upping productivity.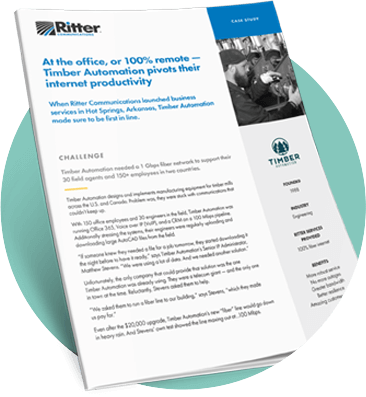 Why Ritter Communications?
Ritter Communications has been a pioneer in independent telecommunications since 1906, and a nationally-recognized leader in digital networking and internet service for business since the dawn of the information age. We're committed to helping every client overcome their business networking challenges to maximize productivity and sales, with solutions to fit companies of any size or budget.
Contact us today, and see how fiber internet from Ritter Communications can put your company's productivity in the fast lane.