Open Internet & Ritter Communications: Where We Stand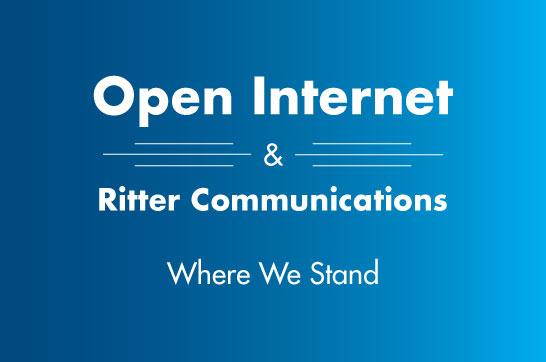 Over the past few months, you may have seen a number of news stories or social media posts about potential changes to how, and whether, the internet is regulated by the federal government. The frequency of those messages increased last week as a Dec. 14 vote by the Federal Communications Commission (FCC) concerning the changes grows near.
Several of our customers have reached out to ask how the potential changes could impact their service, and the answer is they won't have an effect. It's important for you to know that regardless of whether or not the changes take place, Ritter Communications practices will remain the same.
We don't engage in unlawful or anti-competitive discrimination against websites, streaming video services and voice applications that may compete with traditional services we offer.
We don't offer pay-for-priority services, meaning we don't speed up access to individual websites in exchange for compensation. We treat access to all websites the same. We don't block or throttle consumer access to lawful internet content consistent with our acceptable use policy. We do not plan to share information about your internet usage with third parties, even if we are given permission to do so.
We do invest in our networks to give our customers the internet speed, capacity and services they want most.
Our policies regarding internet usage are available on our website here, and we have fact sheets providing details on each of our broadband products.
We understand Open Internet is an issue that people may be passionate about. However, we assure you that our policies and practices have not changed and are not expected to in the near future.